Flumphs
Biographical information
Hometown
First Comic
Last Comic
Physical description
Species

Flumph

Chronological and political information
Affiliation

1st Edition AD&D

Alignment
Status

Living

D&D Stats
Level

2 HD

Str

6

Dex

17

Con

12

Int

11

Wis

12

Cha

10

Feats

Great Fortitude, Hover, Weapon Finesse

Skills

Hide +13, Listen +3, Move Silently +5, Spot +3, Survival +3

Abilities

rancid spurt, acid tentacles
The Flumphs are a pair of flumphs first encountered by the Dungeon of Dorukan. Flumphs are the only Lawful Good monsters in the 1981 1st edition AD&D Fiend Folio. Flumphs were belatedly updated for 2nd edition AD&D in the 1995 Monstrous Compendium Annual Vol. 2. The two particular specimens who are featured in Order of the Stick first made their appearances as monsters in the Hall of Outdated Monsters surrounding the Talisman of Dorukan. They were originally used to break Hilgya's fall and then both Durkon and Hilgya.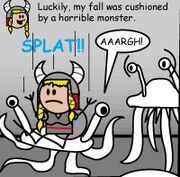 They somehow managed to escape the destruction on the Dungeon of Dorukan, only to be landed on by Roy and Elan. They survived that incident and have become a recurring gag, making appearances once in a awhile to break someone's fall or to be placed in situations of danger or pain, eventually leading to the flumphs seeking psychotherapy. This is even referenced without an actual Flumph, with Belkar making a Flumph out of sand in the middle of a desert, which Roy promptly fell on as soon as it was finished. When Roy falls to his death, Durkon says "After all its na like Roy was expectin' thar to be some soft comphy cusion waitin' fer him when he fell..." One of the flumphs, who is at a cafe in Cliffport, lampshades this, getting a feeling that it and its friend "were supposed to be somewhere." The Flumph that is continually smooshed gets more beaten up over time, as more and more people squish it.
At the Palace of Blood, they were switched with another running gag, The Lawyers. When a petrified Haley Starshine fell to the palace balcony from a great height, the lawyers were there to break her fall, while the flumphs were inexplicably litigating in court.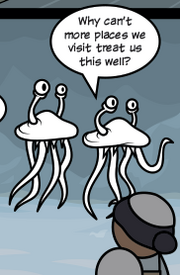 In their latest appearance, they float unmolested through the dwarven city of Firmament, where the dwarves don't consider anything not touching the ground to be part of their territory.
Update to 3.5e and Beyond
Edit
The Talisman of Durkan was designed by Dorukan to herd together all the 1st and 2nd edition monsters which had not been updated for D&D 3.0/3.5 into the Hall of Outdated Monsters. At the time of the publication of #55, they had not been. However, flumphs were eventually updated for D&D 3.5 nine months later in Dungeon magazine #118 in the D&D 3.5 adventure "Box of Flumph". They have been updated for 4th edition and are even featured in the 5th edition D&D Monster Manual core rule book, as a beloved comic relief monster.


Appearances
55, 74, 120, 174, 210, 271, 292, 346, 444, 526, 695, 805, 1090