Logann
Biographical information
Hometown
First Comic
Last Comic
Physical description
Species
Gender

Male

Age

~55+ (close in age to Durkon)

Chronological and political information
Affiliation

Dwarven Army

Class

Fighter/Exotic Weapon Master[1]

Known relatives

Amyth (sister)
unnamed Mother and Father
Thundershield Family (by affection)

Status

Living

D&D Stats
Level

6+/1+

Int

13+

Feats

Combat Expertise, Improved Disarm[2], Weapon Focus: Dwarven Waraxe

Skills

Craft: Weaponsmith 3+

Abilities

Exotic Weapon Stunt: Trip Attack
Captain
Logann Brightstone
is a dwarf and childhood friend of
Durkon Thundershield
. Logann's mother was very close friends with
Sigdi Thundershield
, and so Durkon affectionately refers to Logann as his cousin, though they are not related by blood.
Logann and Durkon were close in age growing up, and Sigdi's circle of close friends, Durkon's "aunts" and "uncles", shared dinner every other week, so the two spent much of their youth together. Logann and Durkon enjoyed playing Smite Tha Tree together, a playground game.[3]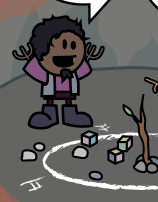 Logann was present at Durkon's ordination into the priesthood of Thor.[4] At that time he had been training in the army.[5] They appear to have been close friends throughout their lives at that point. As older dwarves they enjoyed drinking together.
When Durkon returned to Firmament and to life, Logann was among the family members who answered Sigdi's call to help him. He brought some of the dwarves under his command, as well as Durkon's cousin's brother-in-law's niece's fiancé. In the fight against the vampires, Logann and Durkon vied to show each other up in their combat prowess.[6]
Equipment and Weapons
Edit
Dwarven Waraxe: Logann used his axe for a trip attack.[7] The only way to execute a trip attack with an axe without dealing damage to the solder is to use the Trip Attack stunt from the Exotic Weapon Master prestige class, presented in the 2003 D&D 3.5 Complete Warrior, and for the axe to be a Dwarven Waraxe and his weapon focus for the Exotic Weapon Master class.
Plate Armor: Logann's armor is of unknown quality and enchantment.
References
Edit
Appearances
962, 1086, 1087, 1088, 1089, 1130, 1162, 1163, 1166, 1169, 1171, 1175, 1179, 1180, 1185
Community content is available under
CC-BY-SA
unless otherwise noted.