The Northern Pantheon is one of the four Original Pantheons established at the Dawn of Time. They draw on the real-world mythology of Old Norse religion.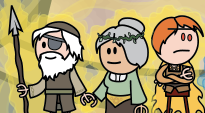 The color of their shared quiddity (essence or aura) is yellow.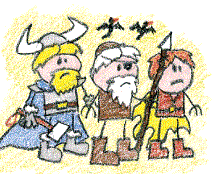 Gods of the Pantheon
Edit
Odin - God of Magic, leader of the Pantheon
Thor - God of Storms
Loki - God of Fire and Mischief
Freya - Goddess of Fertility
Hel - Goddess of Death
Hoder - God of Winter
Heimdall - God of the Watch
Sif - Goddess of Earth
Tyr - God of War
Balder - God of Beauty
Freyr - God of Prosperity
Sunna - Goddess of the Sun
Frigg - Goddess of Wisdom
Njord - God of the Sea
Mani - God of the Moon
Skadi - Goddess of the Hunt
Fenrir - God of Monsters
Vafthrudnir - God of Secrets
Demigods of the Pantheon
Edit
Appearances
Edit
Due to the gods comprising the pantheon, they are also known as the Asgardian Pantheon out-of-universe.
Community content is available under
CC-BY-SA
unless otherwise noted.