Team Evil

"See, that's the spirit! Focus on how snuffing the life of other creatures benefits us!"

Leader

Chief Minion

Status

Active
Team Evil is the official name for the forces of Xykon. They seek to control one of the Gates for a world-altering ritual.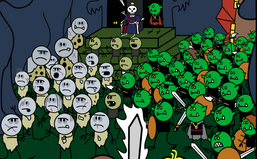 Team Evil has an eclectic makeup, using various henchmen, monsters, and minions when available.
Xykon's original minions during his takeover of the Dungeon of Dorukan, many of them were slain during the Order of the Stick's excursion within the dungeon. The remainder were killed when Elan activated the dungeon's self-destruct rune, resulting in the castle's explosion.
Though they no longer compose the majority of Team Evil's forces, goblins still live within the walls of Gobbotopia.
The goblins of the Dungeon of Dorukan included the following types:
Clerics
Ninjas
Warriors
Wizards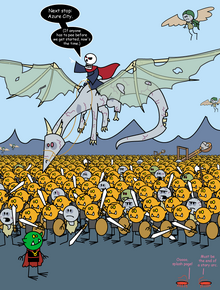 The replacement for the goblins, they were first encountered while Xykon and Redcloak were fleeing the Dungeon of Dorukan. Redcloak proceeded to become the Supreme Leader of the 88 legions that lived within the nearby valleys. The hobgoblins were the main fighting force during the siege of Azure City, and their overwhelming numbers were a major factor in the battle. They were left behind when Redcloak and Xykon went searching for the remaining gates, though they now inhabit the new nation of Gobbotopia, built atop the remains of Azure City.
The hobgoblins included the following types:
Clerics
Warlord
Warriors
Wizards
Ninjas
Several lizardfolk are seen fighting against the Order in the Dungeon of Dorukan.
Trigak the Chimera: A mercenary hired by Xykon to eliminate the Order of the Stick, Trigak was slain by Belkar Bitterleaf while attempting to flee the scene.
At some point before taking over the Dungeon of Dorukan, Xykon recruited a tribe of ogres[1] led by at least three ogre chieftains. The chieftains petitioned Xykon for higher wages (because they weren't being paid at all), prompting Xykon to kill them and reanimate them as zombie ogres.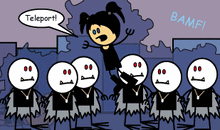 The second largest group of minions serving Team Evil, the undead are a force that is increased with every life lost, be it friendly or enemy. One of Team Evil's tactics during the siege of Azure City was to have clerics raise the corpses of the fallen.
The undead include the following types:
Ghouls
Wights
The Xykon Decoys:

Death Knight
Eye of Fear and Flame
Hueceva

Zombies

Zombie Dragon
Zombie Ogres
Zombie Right-Eye
Community content is available under
CC-BY-SA
unless otherwise noted.